Lingerie is a type of women's clothing that includes undergarments, sleepwear, and intimate apparel. Lingerie is worn to provide support, comfort, and style. There are many different types of lingerie available on the market, each with their unique cuts and designs. The vast majority of these are very sexy and meant as apparel for the bedroom only. But others are made to be worn under everyday clothing and when a woman goes out in public.
As times have changed recently apparel companies have begun to make the items a little different so that they will also fit most trans girls. As you know, I Angeles Cid do not have an issue with the bra or top of the items. It is the bottoms that I struggle with from time to time. That means that I have a hard time hiding my big cock in them. And when I can I take photos and show that to you my fans and friends.
Thong
Thongs are a type of underwear that are designed to leave the ass cheeks exposed. They are perfect for wearing under tight-fitting clothing such as leggings or skinny jeans. Thongs come in a variety of designs, from simple and functional to elaborate and decorative. They are usually made from soft, stretchy materials such as cotton, silk, or lace. Some are transparent and some are not it just depends on what you are looking for and why. These can also be worn just as something for the bedroom and when paired with the right kind or color of high heels can look extremely sexy.
Thongs are available in many different styles, including the G-string, which is the smallest type of thong. G-strings are made of a thin piece of fabric that runs between the ass cheeks, and they often have a small triangular piece of fabric in the front to provide minimal coverage over the pussy or in my case over my big tranny cock. Another popular style of thong is the T-back thong, which features a thin strap that runs down the back of the underwear, connecting the waistband to the bottom of the thong triangle. These are also the sexiest of the cuts and are often used only in the bedroom.

Click here to see a hot thong on Angeles Cid.
Chemise
A chemise is a type of nightgown that is typically worn as sleepwear or as a layering piece under clothing. Chemises are typically made of soft, lightweight materials such as silk, satin, or cotton. They are designed to be loose and flowing, and they often feature delicate lace or embroidery detailing. This is often something of older women but some younger women like them as well. For me I find them very sexy because though most of them you can see my big cock hanging down if I don't have panties on. If I am wearing panties and a chemise then you can clearly see my panty bulge. Some of the trans girls also call these a 'Baby doll".
Chemises come in a variety of lengths, colors and textures and from short and flirty to long and flowing. They can also be sleeveless, short-sleeved, or long-sleeved. Some chemises feature built-in bras or other types of support, while others are designed to be worn with a separate bra. It all comes down to what you want to wear and how you want to look. No matter what it's sexy and your man is going to love seeing you wear one.
Bustier
Did you know that a bustier is a type of lingerie that is designed to provide support and shape to the tits? Bustier's typically feature a structured bodice that extends down to the waist or hips. They often feature boning or other types of support to help create a smooth, streamlined silhouette. This means that while the cup holds the girls tits up and pushes them out, the body shapes the waist to look smaller and more sexy. They are usually extremely tight but also adjustable to make them fit almost any size body.
Bustier's come in a variety of styles, from simple and classic to ornate and decorative. They are typically made from materials such as satin, lace, or silk, and they often feature intricate embroidery or beading. Bustier's can be worn as part of a lingerie set or as a standalone piece under clothing. You will also see women and trans women wear them out as a top. Usually with some sort of cover because they reveal a LOT of tits. But again that is something that makes them sexy. And they have become a big thing to wear at night clubs with a short skirt and heels or jeans and heals.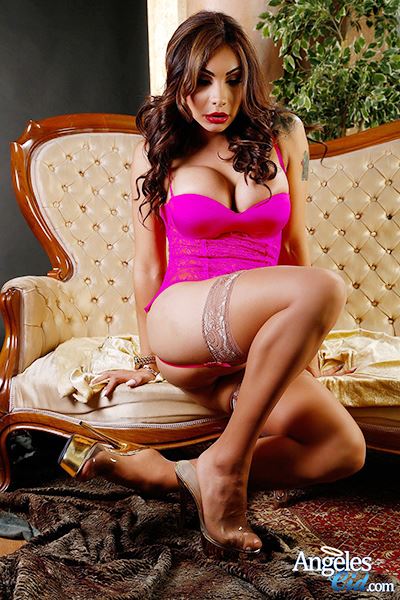 Click here to see Angeles Cid in a sexy Bustier
You can also learn about Long hair and high heels on trans women here!